SSB RECOMMENDATION TRANSFORMATIONAL COURSE
TRANSFORMATIONAL EXPERIENCE OF ASPIRANT ENROLLED IN
SSB RECOMMENDATION BLUEPRINT JOURNEY
👇WATCH & LISTEN THE EXPERIENCE OF ASPIRANT ENROLLED IN👇
SSB RECOMMENDATION BLUEPRINT JOURNEY
SSB RECOMMENDATION KIT
SSB RECOMMENDATION BLUEPRINT ALL MODULES
SSB Recommendation Blueprint Transformational Journey consists of 9 interactive transformational video courses to master SSB Recommendation right from setting-up the mind till execution.
The overall journey has been engineered in such a strategic manner that with the completion of each module you will have more josh & clarity to move forward. You will certainly start experiencing the transformation within 3 days by sincerely following this journey as it is happening with a lot many aspirants.
HOW SSB RECOMMENDATION BLUEPRINT JOURNEY WORKS
Checkout the below video to get the 100% clarity that what all things are included in this Transformational Journey and how this transformational course works.
*The above is the limited period offer for the Dedicated Aspirants who wants to start successful journey for SSB Recommednation.
In-Case You still have any question in your mind and wants to
clarify then
WhatsApp or Call: +91-9999-888-054
STILL THINKING? Call Now...
Remember Success is all about taking Smart Decisions & Actions
Join the fastest growing community of Non-Uniform Officers and begin your transformational journey with SSB Recommendation Blueprint just like other IAF Aspirants
Good morning Mr. Ujjwal Sir, I am happy to say that I got into the final merit list of the Navy Technical entry PC. You might remember my recommendation in Dec as I had shared it with you. I just wanted to say thank you again for the guidance you provided through your book and video sessions. Keep up the good work sir. Jai Hind.
- Rahul (Recommended for Navy)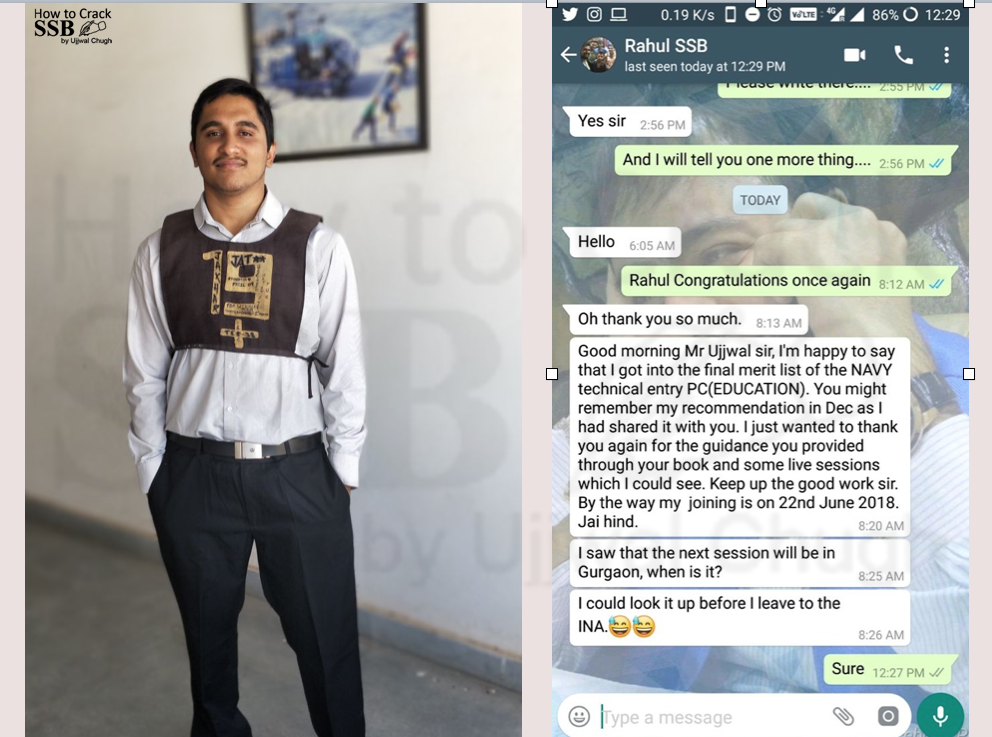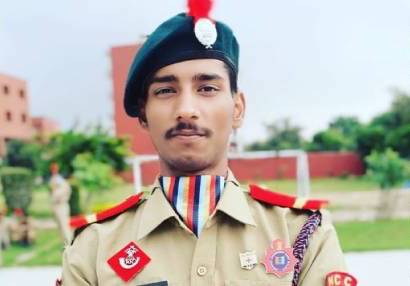 "The Ujjwal Chugh Sir session is very Helpful for the the candidate it's very energatic session. The book is wonderful and this session actually focuses on strategies to enhance your personality for SSB".
This is what SSB Repeaters have to say about the Sessions
You can also leave them blank to get rid of the text completely.
ABOUT US
How To Crack SSB is an initiative founded by Warrior Ujjwal Chugh with its patron as Brigadier G.J Singh VSM (Retd), and is being led and handled by the aspiring & enthusiastic Youth who have been trained under the dynamic leadership of Ujjwal Chugh.
The goal of How To Crack SSB community is to create real life soldiers i.e. "Non-Uniform Officers" and future "IAF Officers" under the versatile mentorship & leadership of warrior Ujjwal Chugh, and also to share the enlightening experience of other veterans of Indian Armed Forces. How To Crack SSB is an experienced Youth driven eco-system with an ethos to impart Indian Armed Forces (Specifically SSB) trainings which will enable the aspiring defence candidates to become Non-Unfiorm officers and that will lead the path to become future IAF officers.
Ujjwal Chugh has cracked NDA twice and got two times consecutively recommended by SSB Board. For being a true problem solver to a lot of IAF aspirants & SSB repeaters who carry so many myths about SSB, the 'How To Crack SSB' initiative was started. Till date, thousands of aspirants have been trained and have become successful in their career, and a lot many have joined Indian Armed Forces by getting the SSB recommendation. With the love & support of aspirants & people 'How To Crack SSB' book by Ujjwal Chugh is one of the Top Rated books for SSB with a Facebook fan-base community of 1.4 lac plus.
MISSION
On a mission to help 100000 Defense Aspirnats to transcend from being Ordinary to Non-Uniform Officers that will lead their path for successful SSB Recommendation
How To Crack SSB - Top Rated Book for SSB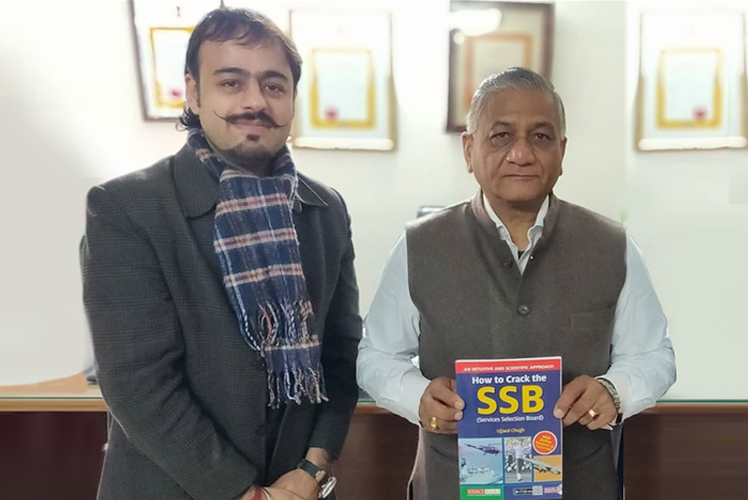 Author Ujjwal Chugh in conversation with General (Dr.) V.K. Singh, PVSM, AVSM, YSM, ADC(Retd.)
Got appreciation and received foreword for the 3rd edition of "How To Crack SSB" book.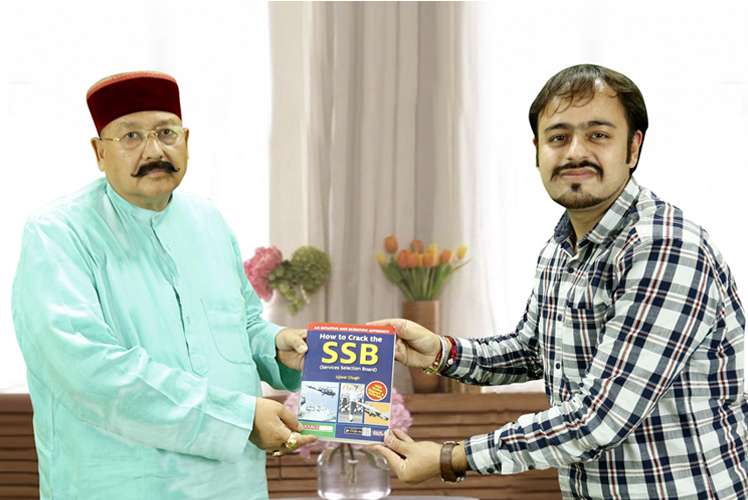 Author Ujjwal Chugh in conversation with Shri Satpal Maharaj, Ex-Chairman of Standing Committee of Defence, Cabinet Minister Tourism Uttarakhand
Got appreciation and received foreword for the 3rd edition of "How To Crack SSB" book.
Author Ujjwal Chugh in conversation with Major General Dilawar Singh (Retd.)
Got appreciation and received foreword for the 3rd edition of "How To Crack SSB" book.
The life of Indian Armed forces is exceptional. I have served in the Indian Army from 6th Sep 1970 to 31 Jan 2005. I can proudly say that the Indian Army has created the best version of me.
I was an outstanding Athlete of the Services and India and represented the country in various International Athletics competitions Home & Abroad to include pre-Asian Athletics competition, Singapore, Kala Lumpur, Colombo, and world Services game Moscow. I was honored with VSM by Hon'ble President of India for channeling the Kashmiri Youth to rope them in the prestigious Indian Armed Forces. As a warrior, I was lucky to get the opportunity to be the part of 1971 Indo-Pak War Operation Cactus Lilly.
God has been very kind to me and showered his blessings in the form of all these honors. I always feel very happy to work for the Youth Empowerment and I still consider myself a Youth with the same Josh. After my retirement, the Punjab government appointed me as a Director-General of Punjab Youth training and employment department.
I met Mr. Chugh in Delhi when he was awarded with NCC Achievers Award and from there looking the kind of platform he has created for the Youth and the knowledge is carried at such a young age is mind-boggling. Moreover, he cracked NDA and got recommended and I see him as the real-life warrior. For the Youth upliftment and to guide people for joining IAF I joined the "How To Crack SSB" team as a patron in Jan 2019.
I invite all the Youth to become a part of the "How To Crack SSB" mission. Join Army & I assure you 100% success.
Jai Hind!
Regards
Brigadier G.J Singh VSM (Retd.) | Vice President of Veterans India
Patron of - "How To Crack SSB"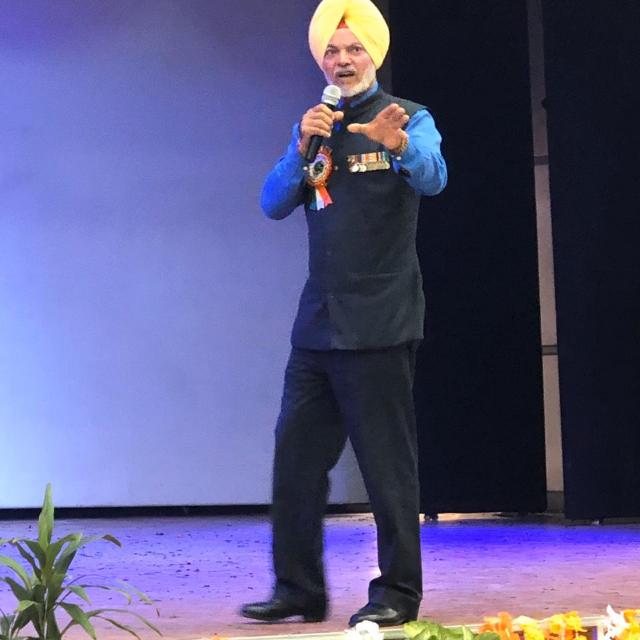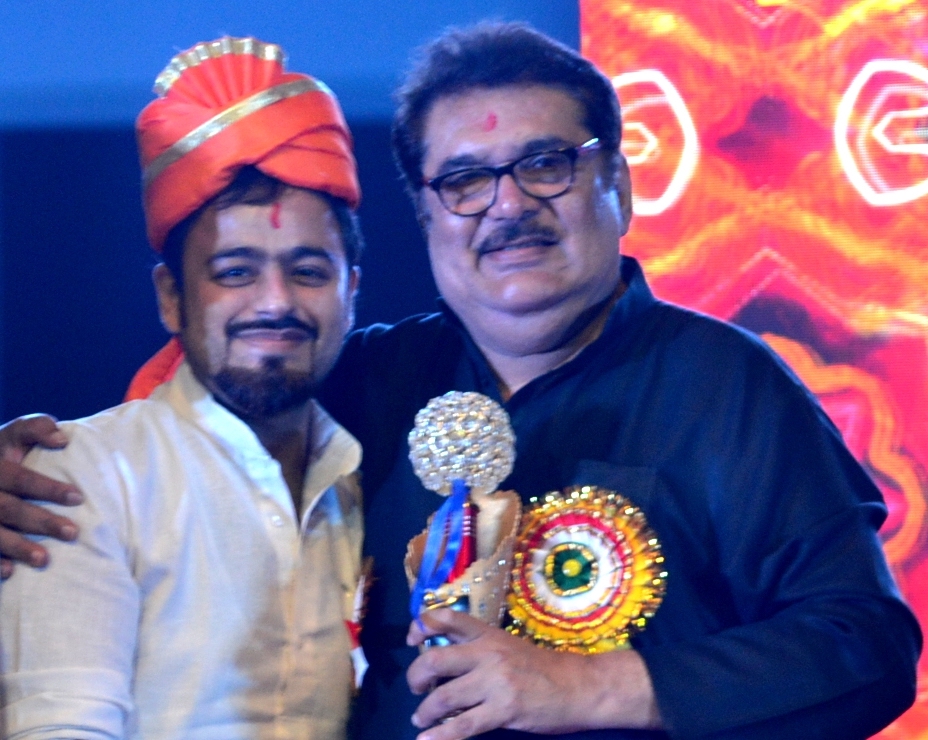 RECEIVED THE HONOR OF SHAHEED BHAGAT SINGH BRAVERY AWARD
In september 2016 Ujjwal Chugh received the prestigious honor of "Shaheed Bhagat Singh Bravery Award" by Shri Raza Murad for excellence as an outstanding young Author, Entrepreneur & Digital Visionary for bringing the positive renovations in the sphere of digital education and channeling the youth for doing great work for their mother land India and Indian Defense Forces.
INVITED AS GUEST OF HONOR AT MUMBAI NCC ACHIEVER AWARD TO CHANNELISE DEFENSE ASPIRANTS FOR SSB
Large number of NCC cadets and defense aspirants attended the session on "How To Crack SSB"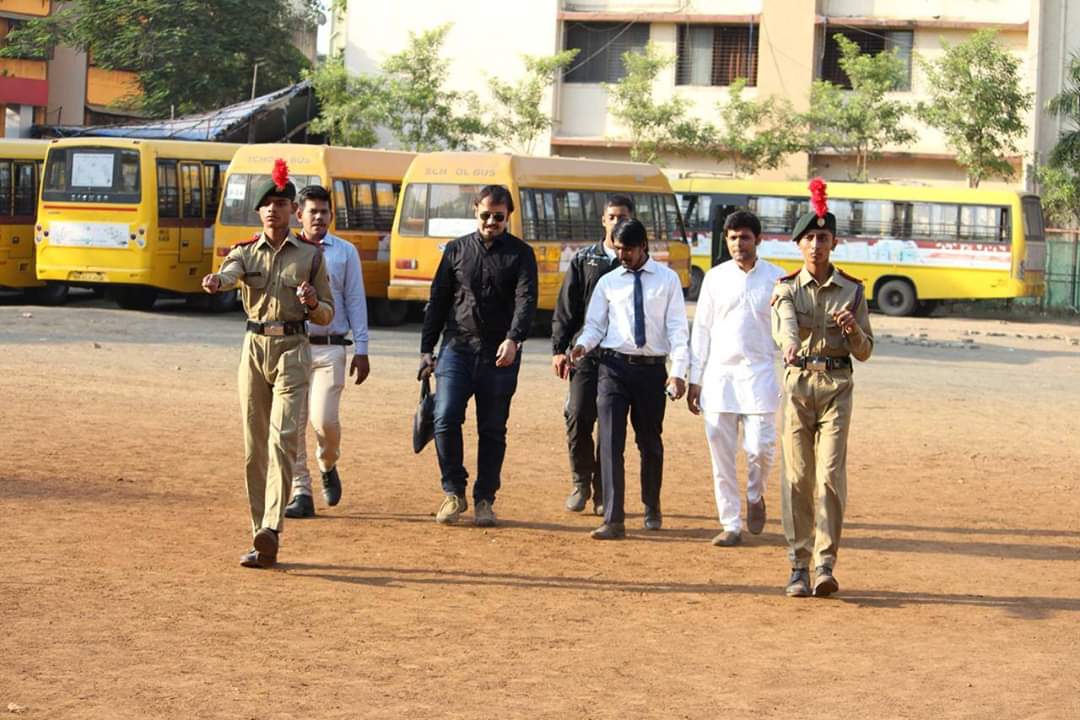 Received Honour by Lt. General P.S. Choudhary and Rear Admiral Alok Bhatnagar
Honored with NCC Achiever Award 2018 and honor for special contribution for preparing candidates for IAF SSB.
Grand launch of "How To Crack SSB" 2nd Edition by Maj. General Sunil Kumar
ENDLESS TRANSFORMATIONAL & SUCCESS STORIES OF ASPIRANTS GOING WITH SSB RECOMMENDATION BLUEPRINT JOURNEY
AND TRANSFORMATIONAL SUCCESS STORIES CONTINUES...
START YOUR
SSB RECOMMENDATION JOURNEY NOW
Grab the limited period offer and enroll for
SSB Recommendation Blueprint Transformational Course

INDIAN ARMED FORCES - A LIFE LESS ORDINARY
Do You Have It You?
Start Your Self-Transformational Success Journey Now!